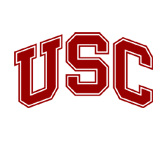 As a part of my involvement in the USC Student Investment Fund, I had to write an analysis of the software industry.  This report was due during my second week of school, so I had to quickly crank this out after my internship.  Given my time constraint and the high-level scope of this report, it likely isn't too insightful to anyone who is already familiar with the software industry.  However, if you are unacquainted with the inner workings of software, this report provides a good starting point.  I realize the Industry Overview and Industry Size sections are a little dry, but hopefully you find the rest interesting.  Enjoy.
Industry overview
The software industry took off with the invention of the personal computer in the mid-1970s and has emerged to become one of the key areas of productivity gains over the past few decades.  Software vendors have designed solutions – from word processing to procurement – to help companies more efficiently operate their businesses.  Thus, a large business-to-business software market exists in which vendors market software suites to companies seeking to enhance workforce productivity via technology.  In addition to business users, consumers also use software on a daily basis for similar purposes; this trend has given rise to the business-to-consumer software market.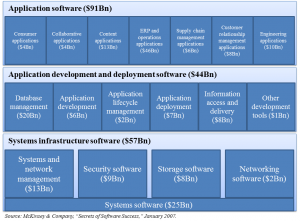 The software industry, in aggregate, can be classified into three broad categories: application software, application development and deployment software and systems infrastructure software.  For a detailed breakout of the three software layers complete with market sizes, see exhibit.  Although the market size data is outdated, this provides a good sense of the relative size of each software segment.
Application Software
Application software is a broad term for software that helps a user perform a particular or series of tasks.  Application software has been embraced by business users because oftentimes the applications greatly enhance the efficiency of workers or eliminate the need for workers altogether.   As the industry has matured, many applications that were initially standalone offerings for specific tasks are now a part of a broader suite of software services offered by a single vendor.  Examples of application software include consumer oriented offerings such as Microsoft Office which helps users with word processing, presentations and data analysis.  Application software can also refer to "Enterprise Software" that is sold primarily to large businesses.  An example of this latter type of software is Oracle's Business Performance Management application suite.
Application Development and Deployment Software
Application development and deployment software refers to the software packages used by developers to create and deliver software.  Though less visible to the end-users of software applications, companies in this sector of the software market are critically important to the software ecosystem.  Key functions served by application development and deployment companies are: middleware, information and data management, and application life-cycle management, to name a few.
Systems Infrastructure Software
Systems infrastructure software serves as a foundation.  It is the platform upon which all other software is built and it manages the hardware of a computer.  Systems software can be as simple as firmware, which provides basic functionality to hardware, or as complex as an operating system, which serves as a platform for third party application developers to create robust software solutions.  The most ubiquitous operating system today for PCs is Microsoft Windows, however, in the server market Linux is an increasingly popular alternative.
Key Players
Initially a fragmented market, the software industry has undergone consolidation as "category killers" from narrower software verticals have leveraged their market dominance into adjacent markets.  The most notable company employing this strategy is Microsoft.  The company began in the systems infrastructure market with its Windows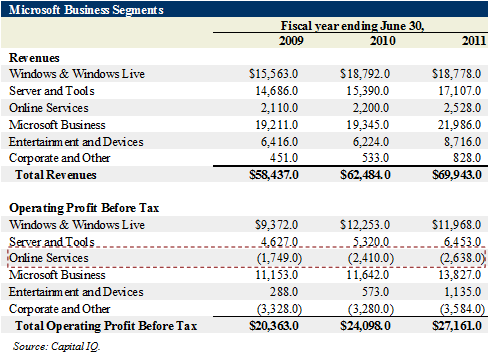 operating system, and within six years of its Windows product launch in 1984 it entered the application software market with the creation of Microsoft Office.  Today, Microsoft's operating system and its office productivity tools serve as the foundations for its Windows & Windows Live and Microsoft Business operating segments, respectively.  These two divisions, which collectively deliver profits of $25.8 billion (or 95% of Microsoft's total operating profit), fund Microsoft's recent push into the Internet  and online cloud services via its loss-making Online Services Division, a business unit that has not posted a profit since 2005.  See exhibit for an analysis of Microsoft's segment-level profits.
Furthering the competitive nature of the software industry has been recent consolidation.  As growth in the software industry has slowed and the industry matured, larger software companies have acquired smaller competitors, particularly those focused on vertical markets.  Oracle Corporation has been the most prolific acquirer in the software industry over the last 7 years.  Led by its founder Lawrence Ellison, Oracle has spent over $41.0 billion dollars since 2001 acquiring its smaller rivals.  As a result of consolidation and the convergence of hardware and software, many companies such as and similar to Microsoft, including Oracle, SAP, and IBM, compete across multiple software verticals.  This consolidation has resulted in a number of large software providers, offering a broad suite of software products, ranging from content management to enterprise resource planning.
Lastly, key players in the software industry have been turning back the clock.  In the early 1990s IBM shuttered many of its hardware operations to focus on software, a higher margin business, thus abandoning its integrated hardware and software "systems" strategy.  Instead of selling integrated systems, IBM committed its services business to assembling customer IT systems based on their selected hardware and software components, even if not IBM products.  This move tracked with industry perceptions that IT managers should not have to purchase entire systems from one provider (and put themselves into vendor lockup), but instead they should be able to assemble an integrated hardware and software system from best-of-breed solutions from various vendors.  This forced hardware and software providers to focus on interoperability, sometimes at the cost of performance.  To counteract performance issues, certain hardware and software companies partnered to provide optimized systems for customers.  One example of such an arrangement was between Oracle and Hewlett-Packard.  In 2008 the two companies reached an agreement to co-develop and sell the Oracle Exadata Storage Server, a system to deliver simplified management and storage for Oracle data warehouses.  The machine performed well, however, this relationship was turned on its head in 2010 when Oracle went back in time by purchasing Sun Microsystems for $7.4 billion; Oracle's rationale: to provide IT managers with a one-stop-shop for optimized, fully-integrated, hardware and software systems – a return to the strategy abandoned by IBM years ago.  Today Oracle and Hewlett-Packard are bitter rivals as a result of Oracle's push into the hardware market.  It is expected that competition will further heat up as traditional hardware providers push further into the software industry, just as software companies such as Oracle continue to do the opposite.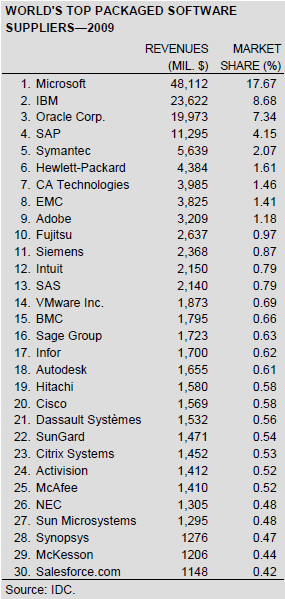 As a result of firms leveraging franchises into adjacent markets, consolidation through M&A and the convergence of hardware and software, the software industry is dominated by both traditional software companies such as Microsoft and Oracle and traditional hardware companies such as IBM and Hewlett-Packard.  See exhibit for the top 30 software vendors, according to IDC.  While there are a number of large software companies, the top 30 software suppliers only account for a 58.3% market share, according to IDC.  This fact is due in part to the specialized nature of many software packages; they are often tailored not just to specific functions, but also industries.  Moreover, given the rapid pace of innovation in the software industry, new entrants are often able to capture significant market share in new software niches that cannot be addressed by larger, slower moving software companies.  This fact pattern has also given rise to the supporting venture capital industry, a much needed source of high risk capital allocated to high-growth, high-risk, software start-ups. Given the falling costs associated with starting a software company due to cloud computing, discussed later in this report, it is expected that the number of software companies will increase in the future, yet the largest software companies will continue to dominate the market and regularly acquirer the smaller software start-ups that have successfully created compelling software suites.
Ownership Structure
While start-up costs for software firms are low, the capital requirements for building large enterprises are significant.  Many investors overlook this fact due to GAAP accounting.  Unlike traditional capital intensive businesses such as manufacturing which invest extensively in property, plant and equipment, items that are capitalized on the balance sheet under GAAP, software companies invest equally large amounts into internally-generated intangible assets, items which are expensed rather than capitalized under GAAP.  Specifically, software companies invest in intangible assets such as customer relationships (via sales and marketing) and intellectual property and core technology via research and development personnel.  Thus, smaller private software companies regularly seek institutional venture capital to grow.  Typical venture capital ownership structures consist of convertible preferred stock with liquidation preferences, participation rights, participation caps and conversion features (normally 1:1 into common stock).  Dividends, particularly in private companies, are uncommon.
Historically, venture-backed start-ups exited via initial public offerings (IPOs), making up 58.0% of all exits in the 1990s, according to the National Venture Capital Association (NVCA).  However, more recently, due to Sarbanes-Oxley and an array of other factors, venture-backed start-up exits have increasingly taken the form of mergers and acquisitions, consisting of 88.0% of all exits in in the 2000s, according to the NVCA.  2009 was a particularly difficult year for venture-backed IPOs, with only 12 companies going public due to investor risk aversion stemming from the financial crisis.  As the equity market has rebounded since its March 2009 lows, the IPO market has begun to thaw.  Increased risk appetite in equities matched by the desire of portfolio managers to own growth has allowed 32 technology companies to go public thus far in 2011.  The opened IPO window has a host of software companies gearing up for IPOs, including a whole crop of social software and social commerce start-ups such as Jive Software, Groupon, Bazaarvoice and Zynga.
Large software companies, which need a lot capital for aggressive growth strategies and a liquid stock as an M&A currency, are typically publicly traded entities with significant institutional ownership.  Younger public software firms often have significant ownership from their venture capital backers due to the conversion of preferred into common stock, while older public software firms are regularly owned by a broader base of growth-oriented asset management funds such as the Franklin Growth Fund.  Options granted to employees as a form of compensation can also be a significant ownership issue, particularly in newly publicly traded companies.  For example, while Pandora's ordinary shares outstanding are 161.9 million, its fully-diluted shares outstanding under the treasury method accounting for options and warrants are 195.2 million, a difference of 20.5%.  (See exhibit below for detailed calculations.)  Investors must be cognizant of the dilutive nature of these securities as they are exercised, especially as more young software companies take advantage of the open IPO window to access the public markets.

Industry Size
Since growing at double-digit rates in the 1990s, the software market in the past decade has grown at a slower rate, indicative of a maturing industry.  According to IDC, the software market had its first ever contraction in 2001, when spending on software declined from $170.0 billion to $169.7 billion due to weak IT spending in the wake of Y2K and the Internet bubble crash.  Since 2001, software spending has accelerated, increasing 14.8% in 2007, 7.0% in 2008, with a slight decline of 3.7% in 2009 (due to the global financial crises) to reach a 2010 market size of $282.0 billion and an expected 2011 market size of $297.1 billion.  IDC expects the total software industry to reach $361.5 billion in 2014, representing a 2009 to 2014 compound annual growth rate (CAGR) of 5.8%.  This growth rate, which is indicative of a mature industry, is due in part to the sheer size of the total software industry.  Thus, it masks many underlying high-growth niches within the software industry, particularly areas within cloud computing which are experiencing rapid growth as computing shifts to a service-based delivery method.
In addition to aggregate figures, IDC provides forecasts of the software market one level below.  Similar to prior sections of this report, IDC forecasts market sizes in the following three categories: application software, application development and deployment software, and systems infrastructure software.
Application Software
Application software, which is typically end-user software designed for specific tasks, is the largest sector of the software market.  According to IDC, the application software market was $130.0 billion in 2009, or 48% of the packaged software market.  IDC expects this segment of the software market to grow to $167.0 billion in 2014, a CAGR of 5.2%.  Growth is expected to be driven by enhanced uptake of application software in emerging markets, as well as the 2012 release of Microsoft Office.
Application Development and Deployment Software
Application development and deployment software is typically used by developers to build, manage and run software systems.  Integrated development environment (IDE) software, middleware and data management software are just a few examples of the many different types of application development and deployment software systems sold in this market.  According to IDC, the application development and deployment software market was a $65.0 billion industry in 2009, a market which it expects to grow to $88.0 billion in 2014, representing a CAGR of 6.5%.  Growth in the market is being driven by the increasing number of software companies focused on developing application software for end markets.
Systems Infrastructure Software
Systems infrastructure software is the layer of the software stack that manages physical resources such as PCs or servers.  Specific examples of this type of software include operating systems, hypervisors and data center management software.  According to IDC, this sector of the software market was $78.0 billion in 2009.   IDC expects this segment to grow to $106.0 billion in 2014, representing a CAGR of 6.4%.  In addition to growth driven by upgrade and replacement cycles, the systems infrastructure market is expected to increase due a shift to distributed computing.
Industry Trends
A hallmark of the software industry since its inception has been change.  Innovation is a key point of competition in the industry, as companies innovate to enhance their customer value proposition and differentiate themselves from competitors.  As new technologies emerge through this process, even more companies seize the change in the competitive landscape to exploit it for their benefit.  The invention of the Internet, while already 20 years old, is still young in a relative sense and it is having a large impact across an array of industries, including the software industry.  The Internet has enabled a key software industry trend termed cloud computing, a buzzword with broad meaning and hype.  Cloud computing, discussed later in this report, is impacting all layers of the software industry; application software companies are coming under attack from Software-as-a-Service companies; application development and deployment companies are being challenged by Platform-as-a-Service companies; and systems infrastructure software companies are feeling pressure from Infrastructure-as-a-Service companies.   The cloud will have a profound impact on the competitive battlegrounds and players in the software industry.  Companies that react nimbly and adapt to this trend will thrive, while those that do not will be bested by faster moving start-ups.
Cloud Computing
Cloud computing is currently a key battleground in the software industry.  It seems almost daily that corporations and venture capitalists are making significant investments in this space.  Cloud computing is a broad term; it is a term with a lot of hype and one which is subject to significant marketing spin as traditional software providers try to market themselves as cloud companies.  Many definitions exist for cloud computing, but Gartner does a good job a succinctly summarizing its meaning and scope.
"Gartner defines cloud computing as a style of computing in which massively scalable IT-enabled capabilities are delivered as a service to external customers using Internet technologies, where services are tracked with usage metrics to enable multiple deployment models."
At the risk of complicating matters, it is important to delve more deeply into the trend of cloud computing to assess the direct impact of this trend on the software industry.  IDC defines Software-as-a-Service, (synonymous with cloud computing in this report) as,
"the service enablement of all three layers of the three primary software markets: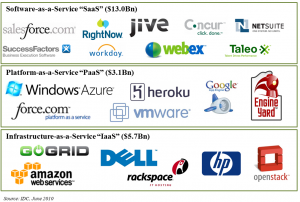 application software, application development and deployment software and systems infrastructure software."   Under the cloud computing model, the three aforementioned packaged software markets are referred to as Software-as-a-Service (SaaS), Platform-as-a-Service (PaaS) and Infrastructure-as-a-Service (IaaS), respectively.  For simplicity purposes, this report will use SaaS, PaaS and IaaS to refer to the three software layers within the cloud, while using the term cloud computing to refer to the market as a whole.  See exhibit for a view of the cloud stack, complete with market sizes.
Cloud computing's success is buttressed by three supporting developments over the past decade.  First, as can be seen from Gartner's definition of cloud computing, the availability of the Internet is integral to cloud computing; without it, cloud computing would not have a delivery mode.  Second, virtualization software has enabled cloud software providers to operate multiple operating system instances on one server.  The ability to partition resources has led to higher server utilization rates, making one-to-many server side computing economically viable for cloud companies.  Lastly, along similar lines, the ability for multi-tenancy, whereby a single instance of software runs on a server serving multiple clients simultaneously, has further allowed cloud companies to efficiently serve software over the Internet to customers.  Moreover, with server-side computing, enabled by virtualization and multi-tenancy, cloud companies today are able to keep all customers on the same version of software, greatly reducing maintenance and supports costs that historically had been associated with supporting multiple versions of the same software on customers' internal IT networks.  This allows cloud software vendors to offer comparable software suites as legacy packaged software vendors, but at lower average selling prices.
To fully appreciate the "as-as-service" value proposition of the cloud requires an analysis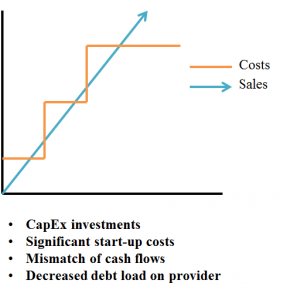 of the economic cost-curves faced by companies purchasing software.  Under the old model, a company was required to invest in software licenses and (or) hardware infrastructure upfront, making incremental capital expenditure investments on a step-function basis as needs exceeded resources (see exhibit at right for a graphical illustration).  Under the "as-a-service" model, companies can now avoid the upfront license and hardware costs associated with traditional packaged software, instead paying only for the resources that are consumed under a pay-as-you-go model.  This approach to software allows corporations to turn capital expenditures into operating expenses, thereby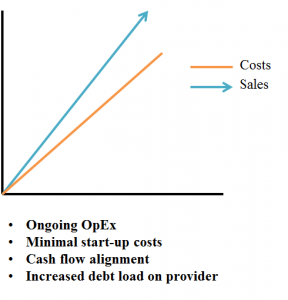 transforming the cost curve faced by corporations into a linear cost-function that scales with revenue (see exhibit at right for an example of the new software cost curve faced by companies).   In addition to shifting costs, cloud computing also allows companies to shift responsibility for continuous operation, backups, updates and maintenance from internal IT to cloud service providers.
The combined cost and risk value proposition has been enough to assuage security and reliability concerns of many IT purchasing managers as cloud computing has gained steam over the past few years.  According to IDC, the cloud computing market reached $13.1 billion in 2009 and $17.1 billion in 2010, a growth rate of 30.5%.  IDC expects the overall market to grow to $40.5 billion by 2014, representing a 2009 to 2014 CAGR of 25.3%.  Albeit off a lower base, the historical and projected growth rate of the cloud computing software market is far higher than that of the overall software market.
The high growth of the cloud computing market represents market share wins of cloud computing over traditional packaged software, as well as net-new additions to the software market as cloud computing makes software more affordable for small to medium size businesses.  SaaS companies have been a leading indicator of the cloud computing market; they are expected to capture 34.0% of all new business software purchases by 2014 and an estimated 14.5% share of the total software market by the same year, according to IDC.  Leading SaaS software companies are now publicly traded, including Salesforce.com, SuccessFactors and NetSuite.  PaaS and IaaS market companies are much more in their infancy.  While young, public market investors should focus closely on the PaaS and IaaS markets, as each of these layers offers a potential platform franchise to the victor.
Software-as-a-Service (SaaS)
SaaS software is end-user facing software which helps users with a particular task.  It is owned, delivered and managed remotely through the Internet by the software service provider.  Delivery through the Internet is integral to the SaaS business model, as it allows service providers to run one version of software for all customers, monitor usage and charge on a per-use basis.  Due to this, unlike traditional packaged software providers which charge customers for initial access via upfront licensing fees and for future access to updates and upgrades via annual maintenance costs (often equal to 18% – 20% of the initial license fee), SaaS software providers charge their customers on a subscription basis, bundling both license and maintenance costs into one fee.  This has resulted in a bit of cost-shifting, as upfront software costs are decreased, yet, long-term SaaS software costs remain comparable to those of traditional packaged software.
According to IDC, the SaaS market reached $8.1 billion in 2009 and $10.4 billion in 2010, growing to $13.0 billion in 2011 and ultimately $20.6 billion in 2014, a 2009 – 2014 CAGR of 20.4%.  The growth of the market has been driven primarily by the popularity of SaaS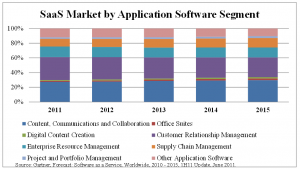 software for customer relationship management, content/communication/collaboration and enterprise resource planning, which, according to Gartner, are the three largest SaaS software segments, respectively.  See exhibit for a detailed breakout of the SaaS market by segment.   Industry leaders in these segments are Salesforce.com, NetSuite, Concur and Taleo.  While all of these companies are experiencing rapid revenue growth, many of them are unprofitable and do not expect to turn a profit in the near future as they invest in technology, sales and M&A to establish dominant franchises in this young, growing market.  Consolidation is expected to be a key trend over the medium term.
Platform-as-a-Service (PaaS)
The PaaS market is a supporting industry for the SaaS market, facilitating the deployment of SaaS applications without the cost and complexity of buying the underlying software.  PaaS solutions provide SaaS service providers with complete lifecycle management and delivery capabilities, including application design, development, testing, deployment, security and database integration.  Similar to SaaS, the key benefit of PaaS offerings are their lower upfront costs and turn-key capabilities.  Application developers are leveraging these benefits to decrease costs and time-to-market, particularly at cash strapped start-ups.
While less mature than the SaaS market, the PaaS market is expected to be the fastest growing segment of the cloud computing industry.  IDC estimated the 2009 and 2010 market sizes to be $1.6 billion and $2.2 billion, respectively, growing to $3.1 billion in 2011 and $8.6 billion in 2014, a 2009 – 2014 CAGR of 39.2%.  Many of the pure-play PaaS companies such as DotCloud and Joyent are private, but the market is seeing a significant push from large publicly traded firms which are attacking the market from different angles.  Salesforce.com is competing with its Force.com platform and its recent $212.0 million acquisition of Heroku, a Ruby on Rails PaaS firm.  VMware, expanding up the software stack from its virtualization stronghold, acquired SpringSource in 2009 for $420.0 million and is now competing strongly in the PaaS market with the recent announcement of its Cloud Foundry Platform.  Other major players in the market include Microsoft with its massive investment in its Windows Azure Platform, and Google with its App Engine product.  Companies are competing fiercely for this layer of the software stack because, similar to Microsoft's near monopoly in the operating system market, the PaaS market offers the chance to be the platform upon which all other cloud applications are built.  Expect to see high valuations, consolidation and rapid innovation in this market.
Infrastructure-as-a-Service (IaaS)
The IaaS market is the lowest layer of the cloud software stack, providing networking, systems management, security, and storage management capabilities.  Similar to SaaS and PaaS, IaaS allows customers to avoid upfront costs.  Instead of purchasing servers, datacenter space or networking equipment, customers instead purchase these resources on an outsourced basis from IaaS vendors.  As discussed previously, these resources are billed on a pay-as-you-go basis, turning what used to be upfront multi-million dollar capital investments into ongoing operating costs that scale with revenue.  IaaS has been one the main contributing factors associated with the "capital light" nature of many software start-ups.
The IaaS market, according to IDC, was $3.4 billion in 2009 and $4.4 billion in 2010.  Looking forward, IDC expects this market to nearly double in four years, growing from $5.7 billion in 2011 to $11.3 billion in 2014 for a 2009 to 2014 CAGR of 27.4%.  Amazon, leveraging its significant server hardware investments, has pioneered the IaaS market with multiple products, most notably its Elastic Compute Cloud (EC2) product, a service that allows for the commissioning of thousands of server instances simultaneously.  Other leaders in the market are Rackspace and GoGrid, which provide cloud delivery of servers, storage and load-balancers.  More recently, traditional hardware providers have also moved into the market.  In particular, Hewlett-Packard is positioning itself to compete in the IaaS market with its Enterprise Cloud Services – Compute service, a bundled service offering of server, storage and security packages.  As more users shift to consuming hardware on IaaS basis, expect more hardware companies to address the market with IaaS solutions.
Sensitivity to the Business Cycle
The software industry saw its first decline in sales in 2002, a trend that repeated itself during the most recent recession in 2009.  These two declines contrast the break-neck growth rate of the industry in the 1990s (despite a recession in the early '90s), indicating the maturation of the software industry as it has transitioned from an industry driven by "greenfield deployments" to one reliant on replacement and upgrade cycles.  Given that many replacements and upgrades are discretionary in nature, they are often deferred when budgets contract during a recession.  Thus, it is expected that in the future, as the industry matures further, it will become more cyclical.
To assess the impact of a recession on a particular software company, it is important to recognize that each type of software company is unique.  For example, mainframe software sales are more cyclical than the average software company.  This is because mainframe software is sold alongside hardware which is a durable good, a class of purchases that are often delayed during a recession.  SaaS software, which is often licensed on a per-seat basis, can also be susceptible to a recession due to customer workforce reductions.  Lastly, to consider the sensitivity of a software company's sales to a recession, one should closely analyze the software contracts that it has signed with customers (data not typically available to public investors).  Often, these contracts are renewed annually or semi-annually, so the risk of lost sales may be diminished as customers are locked into a fixed set of payments.
Software companies have a high degree of operating leverage.  This is due primarily to high preproduction costs associated with making a software product, but then the negligible variable costs associated with making a copy of the software for a new customer.  The high operating leverage of software companies can easily be seen in the margins of Microsoft, Oracle and Google, which have fiscal year 2011 EBITDA margins of 42.9%, 40.8% and 38.4% respectively.  The potential for such profits is the reason that many software companies trade at high multiples and attract significant venture capital funding.
While software firms have high operating leverage, they generally have low financial leverage.  The reason for such low leverage levels in software companies is the nature of their assets.  Unlike manufacturing firms which have large amounts of collateral in the form of fixed assets, software firms have intangible assets.  The value of these assets is much more volatile than traditional capital equipment – giving many banks reservations about lending money to software companies.  Recently, however, as evidenced by Google's recent $3.0 billion bond sale and Microsoft's $2.3 billion bond sale, debt has become more common in the capital structure of larger software companies, but still below the levels of many other industries.
Industry Lifecycle
The maturing software industry, while no longer in its high-growth phase, is still in the growth phase of its lifecycle.  Secular growth in the industry is being driven by an increasing reliance on software and lower costs.  The adoption of the Internet in particular is driving an increased need for software within organizations; they are investing in software products to meet the demands of customers that want to interact and transact online.  Another trend driving the software industry is the emergence of the small to medium sized business market.  Smaller businesses are purchasing software partly because costs have come down significantly, but also to keep up with consumer and investor demands.  It is expected that the adoption rate of software among smaller businesses will increase along with the proliferation of SaaS offerings due to their lower upfront costs.  The combined effect of proliferation and cost reductions should keep the software industry in the growth phase for the foreseeable future.
Industry Structure
The software industry is an attractive one.  It offers new innovative entrepreneurial opportunities regularly and high profit levels to category leaders that emerge from the crowd as software niches mature.  For these reasons, new start-ups, backed by eager venture capitalists, regularly enter the industry to compete with larger incumbents.
While there are no barriers to entry in the software market, there are barriers to success.  The first major barrier is the lack of skilled labor.  Most software packages, particularly data mining and predictive analytics software, require highly skilled software engineers.  For this reason, at the earliest stages of venture capital (Seed and Series A), investors regularly cite management team as the key deciding factor for an investment.  The other major barrier to success in the software market is switching costs.  Customers often invest significant time and money integrating software solutions deep into their organizational structures.  This makes switching costs quite high.  Thus, newer software companies must invest heavily in creating a significant value proposition via cost savings or usability to get customers to switch from incumbent providers.  Most often new entrants focus on new markets, avoiding legacy issues and maximizing the chances of becoming a category leader.
Competition between software companies is fierce.  However, competition is rarely based on price.  Instead, software firms compete based on usability, compatibility and ubiquity.  First, customers want software that is easy to use.  If a software package is too complex with many options and drop-down menus, customers, especially more novice ones, will be reluctant to invest the time, effort and hassle to use the software, even if it's built with superior features and functionality.  Thus, many companies, particularly Internet software firms, invest heavily in top user interface R&D personnel to ensure ease of use.  Second, software firms must make products that are compatible.  This is particularly true for cases where customers want to assemble systems with software components from multiple best-of-breed software providers.  But even compatibility is not enough to ensure success in the software industry.  Many customers are reluctant to purchase software that is not in wide use.  This is partially because of fears of incompatibility, but also because of ease of interaction with others.  For example, Sun Microsystems created OpenOffice, a workforce productivity suite to compete with Microsoft Office; however, the product failed to compete because customers preferred the more widely used Microsoft Office which has nearly become an office place standard.
As discussed previously, the operating leverage of software companies makes them very profitable.  For example, in the more mature Business Analytics and Enterprise Software Market, the average profit level in the industry is 35.7%, according to IBISWorld.  This level of profitability is achievable due to three primary factors.  First, the fixed cost nature of research and development expenditures provide significant operating leverage.  Second, software companies focus on generating software product revenues, a revenue stream with high gross margins due to the low marginal costs of creating an extra copy of software.  While software firms often also have lower margin services revenue, they often try to rely on third party providers to decrease services revenue contribution.  Lastly, software vendors ensure high margins by assembling direct, quota-carrying, sales forces.  These personnel sell software directly to customers, thus allowing software vendors to avoid any profit sharing with value-added resellers, systems integrators or distributors.
The bargaining power of buyers and suppliers is not a major issue in the industry, except for a few circumstances.  In mature markets, large software purchasers have pursued vendor consolidation strategies to accumulate negotiating power in price discussions with software vendors.  This is achieved by decreasing the number of software vendors a company buys from, thus increasing the volume of purchases with a select few vendors in exchange for price cuts.  Vendors have reacted to this trend by acquiring competitors to limit competition and price cuts.  On the supplier side, which primarily represents employee salaries, the negotiating leverage of employees is weak.  The exception to this rule is a strong job market, which is currently the case in Silicon Valley.  With the explosion of social software start-ups including Facebook, Twitter, Zynga, and Groupon, to name a few, a talent war in Silicon Valley has broken out.  The shortage of qualified engineers has pitted start-ups with perks in one corner against entrenched software players in the other corner armed with pay increases.  The most evident example of this trend is Google's 2011 10% raise for every employee.  With the strength in the technology IPO market and a strong venture capital funding environment, it is reasonable to believe that suppliers (i.e. engineers) will have some level of negotiating power over software firms, but not enough to dampen the bright prospects of the industry.
Operational Analysis
Nearly any new easily replicable software technology becomes a low profit commodity.  This explains why many software firms regularly try to move "up the stack" into higher levels of software, services – and more recently – hardware.   This move up the software stack is known more broadly as vertical integration.  Another tactic employed in the software industry is to be the "platform play", a move to be the digital foundation upon which all other applications are built.  When platform plays arise, competition is fierce because lucrative winner-takes-all situations often result.  This occurred when Microsoft Windows emerged as the operating system of choice for desktop and personal computing.  And it is happening again in cloud computing as Microsoft Azure, VMware vCloud and OpenStack strive to be the operating system of the cloud.
Moving up the stack or creating a platform can take many forms.  Some firms pursue partnerships, while others aggressively acquire competitors and firms in adjacent software markets.  Given the intertwined nature of the software industry, whether a firm pursues a partnership over M&A often depends on company-specific competitive dynamics.  More so than other industries, software firms often elect to go it alone, mapping their strategies with a "buy vs. build" mentality.  Under this approach, software firms analyze the time-to-market and cost tradeoffs of building software in-house, or acquiring a company through M&A to fill a product gap.  Often, due to the speed of innovation in the software industry and time required to build complex software, companies elect for the "buy" option.  This is why M&A is a recurring theme in the software industry throughout the years.
Recent examples of companies employing vertical integration and platform strategies are Oracle, VMware and Citrix.  Each has approached the issue from a different angle.  Oracle, traditionally strong in the business database market, has expanded into the middleware market to extend its database capabilities to the application layer.  Then, beginning with its acquisition of PeopleSoft and followed by its acquisitions of Siebel Systems, Hyperion Solutions and BEA Systems, Oracle began entering the top layer of the stack, application software.  Many analysts now expect Oracle to focus on acquiring vertical software firms.
VMware has taken a similar path up the software stack via M&A.  Originally known for its dominance in the virtualization market for its hypervisor software, a layer that is being aggressively commoditized by the Xen hypervisor (an opens source alternative), VMware has made a push up into the PaaS market.  Its initiative began with the acquisition of SpringSource and recently evolved with its April 2011 announcement of its Cloud Foundry PaaS product.  All of this has helped VMware not only prevent commoditization, but position itself as the strongest contender to become the operating system of the cloud.  Time will tell on this front.  Lastly, VMware, in a similar move to Oracle, has entered the top layer of the cloud software stack, SaaS software.  In 2010 it purchased Zimbra, a SaaS workforce collaboration and productivity suite from Yahoo! and more recently Socialcast, an enterprise microblogging platform that helps employees easily connect and share in real-time.
Citrix is also employing a vertical approach to software, but from the opposite angle – top layer software down to lower level software.  It has been expanding from its historical roots in desktop virtualization with its XenDesktop product to server virtualization with its acquisition of XenSource in 2007.  More recently, in a push to build a suite of supporting software tools for developers in the middle of the software stack (PaaS), it acquired Cloud.com for a rumored $200.0 million.  As can be seen from strategies of this sample of firms, M&A is a tool that is used regularly by software companies to avoid commoditization.
Going forward, vertical integration in the industry is expected to continue to be a major factor.  This is driven partly by the previously mentioned competitive and operational tactics, but also by the record levels of cash on the balance sheets of many technology companies, which, according to The Economist reached $591.0 billion in the second quarter of 2011.   These influences combined have made 2011 a strong year for software M&A, with the market showing a 52.0% increase over the trailing twelve month period ended June 30, 2011, according to Software Equity.  Lastly, the added trends towards social, mobile and cloud computing will keep entrenched software firms acquisitive as they strive to keep up with the innovation cycles in the industry and own all layers of the software stack.
Operating Environment
The software industry has many unique aspects about its operating environment.  While the government's role in the industry is limited, various legal, accounting and tax regimes have a material impact on the operations of software companies.  Patents have long been a key battleground, one characterized as a "cold war" fight.  Software firms regularly file patents and build large patent portfolios less from an offensive standpoint, but more as a deterrent to be used to countersue prosecutors.  Recently the importance of patents has increased due to the emerging mobile computing trend and the rise of "patent trolls", non-operating entities which acquire patents with the sole purpose of using them to create lawsuits, not products.
U.S. GAAP accounting standards also have a material impact on software companies, subtleties that can easily lead uninformed investors to incorrect conclusions.   Software companies make extensive use of stock options to incentivize employees.  These instruments are accounted for under SFAS 123R, which requires firms to amortize the fair value of the option grants as a non-cash share-based compensation expense over the expected life of the option contracts.  Another non-cash accounting expense that occurs regularly in the software industry is the amortization of intangible assets.  Unlike internally generated intellectual property assets that are expensed as created, acquired intangible assets are accounted for under SFAS 141R.  This standard requires software firms to account for their M&A activities by amortizing the fair value of acquired identifiable intangible assets as a non-cash expense over their remaining useful life.  Both of these accounting standards give rise to material non-cash expenses, which is why many Wall Street analysts remove them their calculations of free cash flow.  The last major accounting issue for software firms is deferred revenue, a liability that arises from the conservatism of software revenue recognition rules.  In fast growing software firms, this accounting rule can create a significant difference between GAAP net income and free cash flow.  Thus, security analysts need to avoid being fooled by GAAP earnings, instead focusing on free cash flow by adding back the annual changed in deferred revenue to get a better estimate of the true economic performance of a firm.
Given the high margins in the software industry, tax expenses are also a major concern.  Not unlike other corporations in the United States, software firms face both state and federal income taxes which equal approximately 40.5% on a combined basis.  To avoid paying taxes in the United States, many firms in the technology industry employ complex transfer pricing strategies by turning their intellectual property assets into fungible items.  To funnel profits out of the United States, software companies transfer intellectual property developed in the United States to low tax jurisdiction countries, such as Ireland and Israel, via "I.P. Buy-ins".  Then, once ownership is established with tax, accounting and legal documents, the United States subsidiaries (and other global subsidiaries) pay an arms-length transfer price to the foreign subsidiary in a low tax jurisdiction so it can pay lower taxes to it local government.  This profit shifting strategy has the cash flow effect of decreasing taxes.  Many of the largest software firms have entire departments dedicated to this work, including Google, Microsoft and Oracle.  These firms have used transfer pricing to achieve effective tax rates of 21.2%, 24.9% and 25.6% respectively, rates that are far below the combined U.S. federal and state tax rate of 40.5%.
Beyond tax issues, geography has also had an impact on many software firms.  For many firms, emerging and foreign markets have become a source of cheap labor and growth.  On the cost side, China and India have emerged as deep pools of highly skilled and relatively cheap labor.  To take advantage of these workforces, software firms have set up research and development centers abroad, initially offloading lower level engineering tasks such as testing and support but more recently these foreign operations have undertaken higher level tasks such as design and coding.  On the revenue side, given that the majority of large software firms are based in the United States, foreign and emerging markets have been a significant source of new revenue growth.  Many of these countries offer greenfield rollout opportunities, but along with these opportunities come the difficulty of dealing with local governments and foreign exchange risk.  To deal with these risks, software firms hire local managers and hedge their foreign exchange rate risk with international investment banks.
Recommendations and Conclusions
The software industry is undergoing an upheaval as cloud computing proliferates.  As noted by IDC, traditional packaged software and perpetual license revenue are in the permanent decline, giving way to subscription based revenue models.  This macro trend provides investors with both long and short investment opportunities.  Certain companies will thrive in the new software order, while others become obsolete due to innovation, while yet others that currently have a lot of hype will fail to live up to expectations.
NOTE: The rest of this report was a series of long and short investment recommendations.  I do not feel comfortable sharing these publicly because, frankly, I didn't have a lot of time to dig into specific securities.